Overview
Posterior tibial tendon dysfunction is one of the most common problems of the foot and ankle. It occurs when the posterior tibial tendon becomes inflamed or torn. As a result, the tendon may not be able to provide stability and support for the arch of the foot, resulting in flatfoot. The posterior tibial tendon is one of the most important tendons of the leg. A tendon attaches muscles to
bones
, and the posterior tibial tendon attaches the calf muscle to the
bones
on the inside of the foot. The main function of the tendon is to hold up the arch and support the foot when walking. The posterior tibial tendon serves as one of the major supporting structures of the foot, helping it to function while walking. Posterior tibial tendon dysfunction (PTTD) is a condition caused by changes in the tendon, impairing its ability to support the arch. This results in flattening of the foot. PTTD is often called "adult acquired flatfoot" because it is the most common type of flatfoot developed during adulthood. Although this condition typically occurs in only one foot, some people may develop it in both feet. PTTD is usually
progressive
, which means it will keep getting worse, especially if it isn't treated early.
Causes
Genetic predisposition. Faulty foot mechanics, e.g. excessive pronation. Abnormal
bony
architecture. Laxity of ligaments. Neuro-muscular disease. Trauma to the leg muscles or major tendons. Inflammatory diseases of the joints e.g. Rheumatoid arthritis. Surgical procedures on the leg and ankle. Limb length inequality. Tight Achilles tendon.
Symptoms
A significant number of people with fallen arches (
flat
feet) experience no pain and have no problems. Some, however, may experience pain in their feet, especially when the connecting ligaments and muscles are strained. The leg joints may also be affected, resulting in pain. If the ankles turn inwards because of
flat
feet the most likely affected areas will be the feet, ankles and
knees
. Some people have
flat
feet because of a developmental fault during childhood, while others may find that the problem develops as they age, or after a pregnancy. There are some simple devices which may prevent the complications of
flat
feet.
Diagnosis
Diagnosis of
flat
feet or fallen arches can be made by your health practitioner and is based on the following. Clinical assessment involving visual gait assessment, as well as biomechanical assessment. A detailed family and medical
history
. A pain
history
assessment determining the location of painful symptoms. Physical palpation of the feet and painful areas. Imaging such as
MRI
or
x-ray
can be used by your practitioner to assist in the diagnosis.
how to fix fallen arches
Non Surgical Treatment
For mild pain or aching, acetaminophen (Tylenol) or a nonsteroidal anti-inflammatory drug (
NSAID
), such as aspirin or ibuprofen (Advil, Motrin and others) may be effective. Flexible Flatfoot. When there are no symptoms, treatment is not needed. If a child older than age 3 develops symptoms, the doctor may prescribe a therapeutic shoe insert made from a mold of the child's foot or a corrective shoe. As an
alternative
, some doctors recommend store-bought arch supports. These appear to work as well as more expensive treatments in many children. With any
conservative
, nonsurgical treatment, the goal is to relieve pain by supporting the arch and correcting any imbalance in the mechanics of the foot.
Surgical Treatment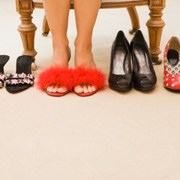 Surgery for
flat
feet is separated into three kinds: soft tissue procedures, bone cuts, and bone fusions. Depending on the severity of the
flat
foot, a person?s age, and whether or not the foot is stiff determines just how the foot can be fixed. In most cases a combination of procedures are performed. With flexible
flat
feet, surgery is geared at maintaining the motion of the foot and recreating the arch. Commonly this may involve tendon repairs along the inside of the foot to reinforce the main tendon that lifts the arch. When the bone collapse is significant, bone procedures are included to physically rebuild the arch, and realign the heel. The presence of bunions with
flat
feet is often contributing to the collapse and in most situations requires correction. With rigid
flat
feet, surgery is focused on restoring the shape of the foot through procedures that eliminate motion. In this case, motion does not exist pre-operatively, so realigning the foot is of utmost importance. The exception, are rigid
flat
feet due to tarsal coalition (fused segment of bone) in the back of the foot where freeing the blockage can restore function.
After Care
Time off work depends on the type of work as well as the surgical procedures performed. . A patient will be required to be non-weight bearing in a cast or splint and use crutches for four to twelve weeks. Usually a patient can return to work in one to two weeks if they are able to work while seated. If a person's job requires standing and walking, return to work may take several weeks. Complete recovery may take six months to a full year. Complications can occur as with all surgeries, but are minimized by strictly following your surgeon's post-operative instructions. The main complications include infection, bone that is slow to heal or does not heal,
progression
or reoccurrence of deformity, a stiff foot, and the need for further surgery. Many of the above complications can be avoided by only putting weight on the operative foot when allowed by your surgeon.